WOCCU Procures Funding to Pilot Credit Union Outreach Program in the United States
October 08, 2007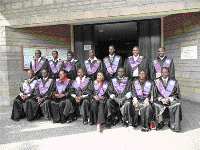 Graduates of the June 2007 Strathmore WOCCU African Management Institute (SWAMI). This intensive accreditation program is one example of CDP's efforts to provide global training opportunities.
Madison, WI— The United States Agency for International Development (USAID) awarded World Council of Credit Unions (WOCCU) additional funding to expand its Cooperative Development Program (CDP) to work with credit unions in Afghanistan, Ecuador, Kenya, Nicaragua, the Philippines and the United States. The new funds will support a remittance outreach program, development of an integrated training strategy and the creation of a village banking model for credit unions worldwide.
WOCCU's new Credit Union Remittance Outreach Program is designed to encourage U.S. credit unions to reach out to underserved populations through the offering of international remittances. WOCCU is collaborating with the Iowa Credit Union League, its subsidiary company Coopera and the Corporación Fondo de Estalicización y Garantía de Cooperativas de Ahorro y Crédito de Panamá (COFEP, WOCCU's member in Panama) to carry out a community outreach and financial education program for remittance senders in three participating credit unions.
The innovative program will provide a model for other U.S. credit unions to follow in reaching the underserved immigrant market. Brian Branch, Executive Vice President and Chief Operating Officer of WOCCU, noted, "Credit unions are leading the way to make sure that the globalization of financial markets benefits working people. By providing an entryway into the U.S. financial system, credit unions are providing hard-working immigrants the services they need to support their families and encourage economic development both in the United States and back in their home countries."
The new integrated training strategy developed by WOCCU under the CDP will help standardize credit union education and training opportunities at the global level. Also with the new funding, WOCCU will conduct an evaluation of its past and ongoing programs to develop a village banking model that enables credit unions worldwide to offer tailored financial services to the working poor.
WOCCU's CDP program has the main objectives of building cooperative business networks, advancing credit union regulation, investing in human capital through credit union training and extending credit union operations to difficult operating environments, such as HIV/AIDS-affected communities, conflict-prone zones and poverty-entrenched rural areas. See www.woccu.org/development/cdp.php for more information on the program.
The primary goal of USAID's CDP funding is to encourage dissemination of lessons learned, both within WOCCU and its membership and to the broader cooperative development community. The new funds will be applied to WOCCU's current award, a five year grant which ends in 2009.
WOCCU is one of eight cooperative development organizations that received supplemental funding. To learn more, visit www.ocdc.coop/OCDC/members.html.
Coopera Consulting is Iowa's leading economic development firm focused on emerging markets that present unique growth opportunities for financial service institutions. Experienced community developers of diverse backgrounds established Coopera in conjunction with the Iowa Credit Union League to partner with credit unions and other financial service institutions seeking to effectively reach emerging markets. For more information about Coopera Consulting, visit www.cooperaconsulting.com.
The Iowa Credit Union League is the trade association that represents the interests of Iowa credit unions and their members. Credit unions are not-for-profit, financial cooperatives owned and operated by their members. Iowans use their credit union membership to receive higher interest rates on savings and lower interest rates on loans. For more information on the League and Iowa credit unions, visit IowaCreditUnions.com.
World Council of Credit Unions is the global trade association and development agency for credit unions. World Council promotes the sustainable development of credit unions and other financial cooperatives around the world to empower people through access to high quality and affordable financial services. World Council advocates on behalf of the global credit union system before international organizations and works with national governments to improve legislation and regulation. Its technical assistance programs introduce new tools and technologies to strengthen credit unions' financial performance and increase their outreach.
World Council has implemented 300+ technical assistance programs in 89 countries. Worldwide, 68,882 credit unions in 109 countries serve 235 million people. Learn more about World Council's impact around the world at www.woccu.org.