WOCCU Regional Forum Hosts First Latin American Regulators' Roundtable
August 13, 2008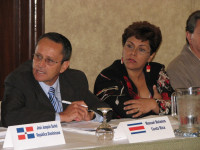 Manuel Bolaños, CEO of the Federación de Cooperativas de Ahorro y Credito de Costa Rica R.L, and Berta Silvia Mena, financial manager of the Federación de Asociaciones Cooperativas de Ahorro y Crédito de El Salvador, R.L., speak with participants during the Regulators' Roundtable.
GUATEMALA CITY—World Council of Credit Unions (WOCCU) and Guatemala's credit union association, Sistema Cooperativo Federado de Ahorro y Crédito de Guatemala (FENACOAC), are hosting 300 credit union managers, staff, board members and regulators from 12 countries this week in Guatemala City, Guatemala, at WOCCU's Latin American Regional Forum. This is the first year the forum is open to non-WOCCU members and the first time Latin American regulators have participated in regional roundtable discussions.
"I am very impressed with the large number of attendees, many of whom are volunteers taking their personal time to attend the forum," said Anne Cochran, president and CEO of the Louisiana Credit Union League and WOCCU board member who gave the opening address at the event. "This shows the dedication and commitment that is evident in Latin America for enhancing people's lives through access to credit and savings cooperatives, thus providing financial dignity to thousands of people."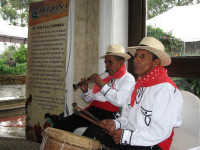 Regional and local Guatemalan culture was on display for participants at the Latin American Regional Forum.

WOCCU's inaugural Latin American Regulators' Roundtable yesterday involved 25 regulators from 10 countries: Brazil, Colombia, Costa Rica, Dominican Republic, El Salvador, Guatemala, Mexico, Nicaragua, Panama and Peru. Despite the region's various models of supervision, Latin American regulators nonetheless discovered many common issues.
"Throughout Latin America today, credit unions are in a strong and stable position, and both regulators as well as participants in the forum are using this time of growth and stability in the systems to ensure the preparedness of their organizations," said Dave Grace, WOCCU vice president of association services. Grace also noted that Latin America was the fastest growing region in terms of deposit and loan growth according to WOCCU's 2007 Statistical Report. "The basics are very easy to overlook, especially in good times," he added.
Roundtable discussions involved building credit unions' managerial and governance capacity and applying risk-based and prudential credit union supervision in the region. In a discussion led by a representative from Costa Rica's Superintendent of Financial Institutions, regulators had the opportunity to review Costa Rica's credit union crisis in 1998 and discuss lessons learned.
"There's no question that financial intermediation should be adequately supervised to protect the depositors and the well-being of the financial system," said Amauri Castillo, secretary general of Panama's Superintendent of Banks. "It was good to know and share experiences with other countries in Latin America regarding the regulation and prudential supervision of credit unions."
The Regulators' Roundtable was hosted on an international stage at WOCCU's World Credit Union Conference in July and last year for the first time in Africa. WOCCU's roundtables and regional meetings cultivate preparedness and discipline through continuous capacity building among regulatory bodies and credit union systems.
"If you have a good system of supervision and control but do not have the capacity in credit unions, not much will happen," explained Grace. "At the same time, if you have capacity but not control, you will see problems. This week, with the roundtable, forum and Manager Certification Program, WOCCU is working on both of these issues in the region—systems of control and building capacity." WOCCU's Manager Certification Program is a two-year training program for current and aspiring credit union managers that runs concurrent with WOCCU's regional congresses.
In addition to governance-related issues occupying the core of this year's forum sessions, participants will have the opportunity to visit up to five area credit unions to learn about credit union operations in Guatemala. FENACOAC has also set-up a variety of cultural displays at the event to give visitors a taste of Guatemala outside the venue walls.
"We feel very honored to have the opportunity to share such important topics on governance, supervision and discipline," said Oswaldo Oliva, FENACOAC CEO. "Leaders from the Guatemalan movement will learn about new trends as well as network with other countries, demonstrating cultural diversity and the high level of integration that exists among counties. This also strengthens the ties of friendship and support that the Guatemala movement and WOCCU have had for years."
World Council of Credit Unions is the global trade association and development agency for credit unions. World Council promotes the sustainable development of credit unions and other financial cooperatives around the world to empower people through access to high quality and affordable financial services. World Council advocates on behalf of the global credit union system before international organizations and works with national governments to improve legislation and regulation. Its technical assistance programs introduce new tools and technologies to strengthen credit unions' financial performance and increase their outreach.
World Council has implemented 300+ technical assistance programs in 89 countries. Worldwide, 68,882 credit unions in 109 countries serve 235 million people. Learn more about World Council's impact around the world at www.woccu.org.
NOTE: Click on photos to view/download in high resolution.