WOCCU Urges Government of Malawi to Return Money to SACCO Members
February 11, 2004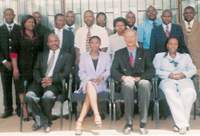 Malawi Union of Savings & Credit Cooperatives Ltd.'s staff
Madison, WI—During a recent meeting with Malawi's Minister of Commerce and Industry, the Honorable Mr. Sam Mpasu, World Council of Credit Unions, Inc. (WOCCU) president and CEO, Arthur Arnold expressed grave concern from both World Council and the Malawi Union of Savings & Credit Cooperatives Ltd.'s (MUSCCO) about the Public Sector retaining salary deductions from members of Public Sector employees credit unions (SACCO) in Malawi.
MUSCCO, a direct member of World Council, represents seventy-two SACCOs with more than 60,000 members in Malawi.
"We are talking about money that belongs to the members, money which they have earned as salaries for working in the Public Sector," Arnold stated. He continued, "I know of no other country in the world where pay-roll deductions are being kept by the government. This is money that should be paid out by the Government to the SACCOs into the member's savings account or for repayment of loans, as instructed by the member/government employee. This illegal behavior of the Government in Malawi puts the reputation of SACCOs as trustworthy institutions for their members at risk! At the same time one starts wondering about the reputation of the Government of Malawi."
The Honorable Minister, Mr. Mpasu agreed with Arnold that this was unacceptable behavior from government entities, which have budget problems. New elections will take place in May 2004 in Malawi and Mr. Mpasu promised to address the issue with his colleagues in government. The largest amounts withheld from government employees and SACCO members are from teachers all over the country, who are already more than two months of salaries overdue.
During the Malawi meetings, Denis Kalekeni, MUSCCO Board president; Sylvester Kadzola, CEO of MUSCCO and WOCCU Board member, representing Africa at WOCCU; as well as Erick Sile, WOCCU technical officer, Africa, accompanied Arnold.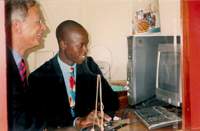 Arthur Arnold with Bvumbwe Community SACCO manager, Joseph Mayenda, going through PEARLS on a desktop computer at Bvumbwe SACCO Offices
Arnold was able to meet with the Boards and management of four SACCOs in the country, as well as with individual SACCO members. Eighty-five percent of the population in Malawi reside in rural areas and works in the agriculture sector. SACCOs are the only alternative for providing access to affordable financial services to the people in Malawi. Arnold continued, "Like what we see in so many countries, the banks are retreating from the rural areas. Only SACCOs can fill the void, offer a safe place to save, create the pool of funding for the small business and farming loans, housing, education and emergency loans often for HIV/AIDS, which has a devastating impact in Malawi."
During his visit, Arnold accompanied by the MUSCCO delegation, also met with the General Management of the Reserve Bank of Malawi, who is in the process to draft new legislation for the Micro Finance sector in Malawi, including SACCOs. Arnold offered World Council's help in drafting SACCOs specific legislation, as WOCCU strongly advocates SACCOs to operate inside the regulated financial sector instead of outside. However, Arnold explained at the same time, that SACCOs are unique, member owned retail oriented financial institutions and not banks.
WOCCU and MUSCCO also met with United States Agency for International Development (USAID) officials, who are in the process of reassessing the Micro Finance sector in Malawi and will invite stakeholders to propose new initiatives with a clear emphasize on sustainable capacity building in this field in the near future. Arnold was able to speak on World Council's well- organized track record in this sector.
Arnold met in a separate meeting with the MUSCCO Board and learned about the challenges for SACCOs and the SACCO movement in Malawi. Arnold complimented MUSCCO on the progress the SACCO movement is making, and recommended the use of WOCCU's PEARLS Monitoring System at the individual SACCO level as well as at the league level. Additional training in the use of PEARLS by management and Board members will be required.
Kadzola noted, "The advocacy role WOCCU played on our behalf has heightened the credit union awareness in this country and I am optimistic that as a result of your visit more avenues of collaboration with various stakeholders will be open to MUSCCO. Credit unions from this part of the world desperately need this type of support to help to boost the profile of credit unions in the financial market place and the economy as a whole."
World Council of Credit Unions is the global trade association and development agency for credit unions. World Council promotes the sustainable development of credit unions and other financial cooperatives around the world to empower people through access to high quality and affordable financial services. World Council advocates on behalf of the global credit union system before international organizations and works with national governments to improve legislation and regulation. Its technical assistance programs introduce new tools and technologies to strengthen credit unions' financial performance and increase their outreach.
World Council has implemented 300+ technical assistance programs in 89 countries. Worldwide, 68,882 credit unions in 109 countries serve 235 million people. Learn more about World Council's impact around the world at www.woccu.org.