WOCCU's 2005 World CU Conference Keynoter Appears On
Blaine Takes on Payday Lenders
CUNA NEWS NOW
May 20, 2005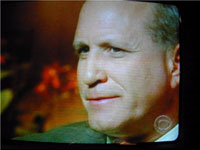 Blaine answers a question during the Wednesday CBS broadcast of "60 Minutes II." (Photos provided by CUNA).
MADISON, WI - Credit union CEO Jim Blaine attacked payday lenders during a broadcast of "60 Minutes II" on CBS Wednesday night, saying that "any other choice on the planet is better," even loan sharks.
Blaine, president and CEO of State Employees Credit Union, a $12.1 billion asset credit union in Raleigh, NC, told CBS correspondent Scott Pelly: "It's not a fair fight. It's the consumer getting in the ring with Mike Tyson. I mean, we all may know the rules; it may be legal, but it's gonna be ugly the way it turns out," he said.
He said he noticed the explosive growth of payday lending when some of his members got into trouble.
Pelley: "If someone came to you and said, 'I'm gonna take one of these payday loans out,' knowing what you know, what would you tell that person?"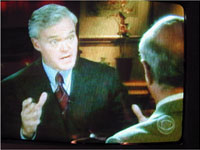 CBS "60 Minutes" correspondent Scott Pelley (left) asks Blaine (back to camera) about the growing incidence of payday lenders in his state
Blaine: "I'd say, 'Go to a loan shark. They're cheaper.' A loan shark only charges about 150%. Why would you go pay 400%? Any other choice on the planet is better. A credit card at 18% is better. A finance company loan at 36% is better. You know, borrow from mom or your uncle. Any choice is better."
Pelley: "You're not equating this to loan sharking, are you?"
Blaine: "No, I think it's far worse. I wouldn't insult the loan sharks."
The segment also interviewed Sandra Harris, a North Carolina disc jockey and teacher, who took out payday loans when her husband lost his job. She borrowed $2,510 and ended up paying $10,000 in fees.
John Kucan, a former Connecticut state trooper who was shot in the line of duty and disabled, said he and his wife took out payday loans and renewed them 15 times, borrowing $850 and paying $2,400 in fees. "What's flashing in front of you is the dollars you're looking for," he said. "The percentage rate isn't something you're even considering at the time."
"60 Minutes" noted that with 22,000 locations, there are more payday lending stores today than there are McDonald's and that payday lending is a $40 billion-a-year-industry. Although 36 states regulate rollovers and fees to some degree, payday lenders use out-of-state banks and federal regulations to avoid complying with the state laws, the broadcast said.
World Council of Credit Unions is the global trade association and development agency for credit unions. World Council promotes the sustainable development of credit unions and other financial cooperatives around the world to empower people through access to high quality and affordable financial services. World Council advocates on behalf of the global credit union system before international organizations and works with national governments to improve legislation and regulation. Its technical assistance programs introduce new tools and technologies to strengthen credit unions' financial performance and increase their outreach.
World Council has implemented 300+ technical assistance programs in 89 countries. Worldwide, 68,882 credit unions in 109 countries serve 235 million people. Learn more about World Council's impact around the world at www.woccu.org.