WOCCU's First Hispanic Marketing Immersion Program in Mexico Transfers Tried Ideas into US Credit Union Market
October 03, 2007
Transfers Tried Ideas into US Credit Union Market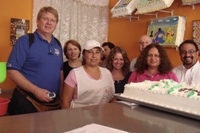 Participants visit a bakery owner in Leon whose business was financed by CPM. Pictured with the member are (l-r): Ben Hill, Blue Flame Credit Union/North Carolina Credit Union Network, Winona Nava, Guadalupe Credit Union, Sergio Leon Valdes, CPM, Carrie Zetty, Ohio Credit Union League, Brian Bauske, Bauske Consulting, Inc, Kathy Chartier, Members Credit Union/Connecticut Credit Union Association and Mike Athens, Credit Union Association of New Mexico.
Madison, WI—Credit union leaders from nine US states learned firsthand new ways to market to the underserved Hispanic population when they traveled to Mexico as part of World Council of Credit Unions' (WOCCU) first Hispanic Marketing Immersion Program, September 16-29.
Eighteen participants from 14 different credit unions and leagues selected a one- or two-week immersion experience in the cities of Guanajuato and Queretaro in central Mexico. During their stay, they completely immersed themselves in Mexican culture and language through family home stays, intensive Spanish language classes and hands-on internships in Mexican credit unions, known as cajas.
The main intent of the internship was to expose participants to Hispanic marketing tactics they could bring home to their own credit unions to expand outreach to the growing Hispanic market in the United States. Groups met with marketing teams and executive staff at the cajas to get an inside look at marketing strategies used in Mexico. They explored tactics such as the use of volunteer marketing committees, branding, mascots, financial education materials and cultural holiday celebrations.

The CPM group stands in front of the Academia Falcon Spanish Language School in Guanajuato before heading to their credit union internship. Pictured (back, l-r): Steph Sherrodd, Texas Dow Employees Credit Union, Victor Hugo Magallanes, CPM, Leticia Ruiz, Winkler County Credit Union (Texas), a CPM-Guanajuato employee, Josh Fetting, WOCCU; (front, l-r): Jorge Aguero, Utah Community Credit Union, Linda Webb-Mañon, Texas Credit Union League, Rohan Kothare, University Federal Credit Union (Texas) and Caite Blount, Texas Dow Employees Credit Union.
"I have learned a great deal that I will be able to take back to serve my Hispanic members," Kathy Chartier, Members Credit Union President and CEO and Connecticut Credit Union Association Board Chairperson, said about her internship experience. "I now have a better understanding of the challenges that these members face in the United States."
Each day began with four to five hours of intensive Spanish classes at a Spanish language school. Participants chose from a variety of classes based on their language ability.
After language classes, participants experienced an authentic Mexican lunch in the homes of their host families and spent the afternoons meeting with one of the four Mexican cajas: Caja Popular Mexicana, Caja Libertad, Caja Alianza and Caja Morelia Valladolid. Each caja offered a different experience about credit union operations, marketing tactics, microfinance opportunities and financial products that meet the needs of working families.
"This program uniquely combines learning the language, culture and business practices of Mexico," said Steph Sherrodd, Texas Dow Employees Credit Union Vice President of Retail Delivery. "I'll be able to take these various aspects back to my position at the credit union."
The Texas and California leagues have a partnership with Caja Popular Mexicana through WOCCU's International Partnership Program; the Arizona Credit Union System is partnered with Caja Libertad; and the Credit Union Association of New Mexico has a partnership with Caja Alianza. The Hispanic Marketing Immersion Program was a direct result of the partnership deliverables for 2007.
In addition to the immersion program, participants attended a workshop in Guanajuato, September 22-23, which included presentations by all four cajas and visits to local businesses financed by microentreprise loans.
Brian Bauske, Bauske Consulting, Inc., praised the ingenuity of the first Hispanic Marketing Immersion Program: "The opportunity for a combination of sharpening my proficiency in Spanish and becoming energized and inspired by the financial cooperative movement in Mexico quite simply made this the experience of a lifetime."
In light of the program's great success, the next Hispanic Marketing Immersion Program will take place in Mexico's heartland, September 21-October 4, 2008. Stay tuned to WOCCU's website for more details: www.woccu.org.
World Council of Credit Unions is the global trade association and development agency for credit unions. World Council promotes the sustainable development of credit unions and other financial cooperatives around the world to empower people through access to high quality and affordable financial services. World Council advocates on behalf of the global credit union system before international organizations and works with national governments to improve legislation and regulation. Its technical assistance programs introduce new tools and technologies to strengthen credit unions' financial performance and increase their outreach.
World Council has implemented 300+ technical assistance programs in 89 countries. Worldwide, 68,882 credit unions in 109 countries serve 235 million people. Learn more about World Council's impact around the world at www.woccu.org.