WOCCU's Lucy Ito Continues Credit Union Career at CCUL
April 14, 2004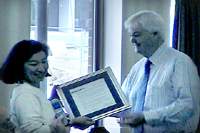 Lucy Ito receives a WOCCU Resolution from World Council board chairman L.R. (Bobby) McVeigh
Madison, WI-World Council of Credit Unions, Inc. (WOCCU) announced this morning that Lucy Ito, Vice President and WOCCU Senior Management Team (SMT) member will continue her credit union career at the California Credit Union League (CCUL). Ito had informed WOCCU last year she would be relocating to California in 2004 for personal reasons. She has accepted the position of Vice President with the California Credit Union League (CCUL), beginning May 3, 2004. In her new role she will provide strategic leadership to the League's research and information department and to other League information and credit union related functions.
"We thank Lucy for all her drive and passion which she has shown over the last 14 years working for the international credit union movement at WOCCU. We are very pleased that she will continue to work with credit unions and wish her success in the next phase of her credit union career at CCUL," commented WOCCU President & CEO, Arthur Arnold.
Lucy Ito said, "Reflecting on my 14 years of service to WOCCU, I value all that I have learned from credit unions around the world and I thank WOCCU for the chance to engage in work that has been deeply rewarding to me. There remains an enormous opportunity to make the very best credit unions a reality for millions of consumers worldwide and I look forward to supporting CCUL and California and Nevada credit unions in that effort, alongside WOCCU."
World Council of Credit Unions is the global trade association and development agency for credit unions. World Council promotes the sustainable development of credit unions and other financial cooperatives around the world to empower people through access to high quality and affordable financial services. World Council advocates on behalf of the global credit union system before international organizations and works with national governments to improve legislation and regulation. Its technical assistance programs introduce new tools and technologies to strengthen credit unions' financial performance and increase their outreach.
World Council has implemented 300+ technical assistance programs in 89 countries. Worldwide, 68,882 credit unions in 109 countries serve 235 million people. Learn more about World Council's impact around the world at www.woccu.org.