World Council Board Takes Office
World Council Presents New Members at Annual General Meeting
July 25, 2017
VIENNA, Austria — Brian McCrory has been elected the Chair of World Council of Credit Unions Board of Directors. McCrory, who succeeded Daniel Burns, representing the Irish League of Credit Unions, formally took office during the World Credit Union Conference Annual General Meeting on Monday, 24 July in Vienna, Austria.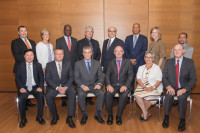 2017–2018 World Council Board of Directors
(Seated from left) Dr. Chul-sang Moon, Rafał Matusiak (Chair of the Governance and Elections Committee), Steve Stapp (Vice Chair), Brian McCrory (Chair), Diana Dykstra (Treasurer), Manfred Dasenbrock
(Standing from left) Mark Degotardi, Carla Altepeter, George Ototo, Kevin Sitka, Brian Branch (World Council president and CEO), Aaron Moses, Martha Durdin, Jaime Chavez Suarez and Dallas Bergl (not pictured).
"We are here trying to enhance cooperation among cooperatives. It is through these collaborations, not based on self-interest, but based on mutual interest we can capture, foster and enable cooperation on a global basis for our members, and our members' members," said McCrory. "We exist in the ecosystem of the financial services market, yet our DNA is very different so we must redouble our efforts to educate others. We ask our regulators to regulate not what we do but how we do it."
Other new World Council directors at the 2017 annual general meeting included:
Kevin Sitka, Canada
Dallas Bergl, USA

World Council's 2017-2018 executive committee is as follows:
Chair, Brian McCrory, Ireland
Vice Chair, Steve Stapp, USA
Treasurer, Diana Dykstra, USA
Chair of the Governance and Elections Committee, Rafal Matusiak, Poland


The 2017 World Credit Union Conference runs through 26 July. Follow conference activities, including daily event photos, on Facebook and Twitter with #WCUC2017.
World Council of Credit Unions is the global trade association and development agency for credit unions. World Council promotes the sustainable development of credit unions and other financial cooperatives around the world to empower people through access to high quality and affordable financial services. World Council advocates on behalf of the global credit union system before international organizations and works with national governments to improve legislation and regulation. Its technical assistance programs introduce new tools and technologies to strengthen credit unions' financial performance and increase their outreach.
World Council has implemented 300+ technical assistance programs in 89 countries. Worldwide, 68,882 credit unions in 109 countries serve 235 million people. Learn more about World Council's impact around the world at www.woccu.org.