World Council Chairman Gary Plank Honored
March 20, 2007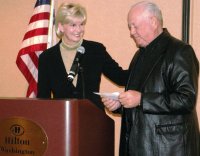 National Credit Union Foundation (NCUF) Chairman Mary Cunningham awards Plank $2,500 for his national credit union achievements. Plank donated the money back to NCUF, which will grant the award to WOCCU's Worldwide Foundation. Photo courtesy of NCUF.
Madison, WI—The American Association of Credit Union Leagues (AACUL) recently honored World Council of Credit Unions board chairman, Gary Plank, Arizona Credit Union System president and CEO, with the Eugene H. Farley League Leadership Award during the Governmental Affairs Conference in Washington, DC.
The Eugene Farley Award recognizes a credit union professional's outstanding efforts in national credit union development. League presidents nominate individuals based on their organizational and financial performance, leadership at the state level, development of credit union services/programs, cooperation within the credit union system, commitment and leadership at the national level.
Plank, in his 10th year as president and CEO of the Arizona Credit Union System, was nominated in part for helping develop Arizona Credit Union System's successful indirect lending program with Arizona auto dealers. He was also recognized for building a strong advocacy program, collaborating with area leagues on various programs, establishing new headquarters for the league and for being a leader in credit union philanthropy.
"Gary has demonstrated his staunch belief in the difference credit unions can make in people's lives during his 10 years on World Council's board of directors. We are proud to see he has been recognized for his tireless efforts on the national level as well," said World Council CEO Pete Crear.
Plank worked for state leagues in South Dakota, Iowa and Minnesota before taking on the role of president and CEO of the Arizona Credit Union System in 1997, the same year he was elected to World Council's board. He has been World Council chairman since 2005. Plank has also served on the Credit Union National Association board of directors and several committees over the years. He will be retiring this year from the Arizona league and World Council.
The award is named after Eugene H. Farley, who retired in 1999 after 40 years of service to the Virginia Credit Union League. AACUL established the Eugene H. Farley League Leadership Award in 2000 to recognize the extraordinary efforts of league personnel. It is endowed by a contribution from former CUNA Mutual CEO, Richard M. Heins.
World Council of Credit Unions is the global trade association and development agency for credit unions. World Council promotes the sustainable development of credit unions and other financial cooperatives around the world to empower people through access to high quality and affordable financial services. World Council advocates on behalf of the global credit union system before international organizations and works with national governments to improve legislation and regulation. Its technical assistance programs introduce new tools and technologies to strengthen credit unions' financial performance and increase their outreach.
World Council has implemented 300+ technical assistance programs in 89 countries. Worldwide, 68,882 credit unions in 109 countries serve 235 million people. Learn more about World Council's impact around the world at www.woccu.org.