World Council Convenes in the Caribbean
December 07, 2006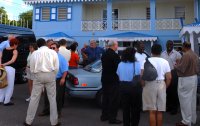 World Council officials at the Nevis Co-operative Credit Union (NCCU). Photo courtesy of NCCU.
Madison, WI—World Council board members from around the world represented the global credit union movement in St. Kitts and Nevis November 29 - December 1 for the their final meeting of the year.
During their visit, Chairman Gary Plank (Credit Union National Association, Arizona Credit Union League), 1st Vice Chairman Melvin Edwards (Caribbean Confederation of Credit Unions, CCCU) and Pete Crear, World Council CEO, met with the governor of East Caribbean Central Bank, Sir Dwight Venner, to discuss the important contributions credit unions make to local communities and national economies.
The board agreed to propose that the Asian Confederation of Credit Unions be welcomed into full World Council membership at the next annual general assembly, and the St. Kitts and Nevis Credit Union League made history by becoming the largest World Council Supporter from the Caribbean.
Board members from Poland, Guatemala, Peru, Australia, New Zealand, the United States, Canada, Ireland, Malawi and St. Lucia also visited St. Kitts Credit Union, St. Nevis Credit Union and the offices of World Council's Caribbean member, CCCU.
"The strength of the Caribbean credit union movement and its deep community ties were evident throughout each of the visits," Crear commented. "World Council appreciated the warm hospitality of the St. Kitts and Nevis National Co-operative League and Minister of Co- operatives, Mr. Cedric Liburd."
World Council of Credit Unions is the global trade association and development agency for credit unions. World Council promotes the sustainable development of credit unions and other financial cooperatives around the world to empower people through access to high quality and affordable financial services. World Council advocates on behalf of the global credit union system before international organizations and works with national governments to improve legislation and regulation. Its technical assistance programs introduce new tools and technologies to strengthen credit unions' financial performance and increase their outreach.
World Council has implemented 300+ technical assistance programs in 89 countries. Worldwide, 68,882 credit unions in 109 countries serve 235 million people. Learn more about World Council's impact around the world at www.woccu.org.