World Council Holds International Partnerships Briefing
October 23, 2006

World Council's International Partnerships briefing meeting participants pose for photo.
Washington, DC—World Council of Credit Unions held an International Partnerships meeting Friday, October 20, in Arlington, Virginia. Twenty-six credit union leaders from United States leagues and World Council shared the progress of their individual partnerships and used the meeting as a forum for best practices.
Victor Corro, International Partnership Manager explained, "Sharing the goals, achievements and challenges of World Council's twenty-two International Partnerships help us to build stronger partnerships and in turn stronger credit union systems. As they develop, we are seeing partnerships conducting more sophisticated exchanges, focusing on issues such as technology, shared branching, corporate structures and better serving immigrant populations." During the briefing, participants discussed how to convey partnership benefits to their constituents, how to make partnerships more inclusive, what works in the program and what can be improved.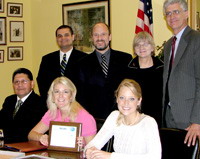 Representatives from the Ohio Credit Union League and World Council of Credit Unions meet with Jessica Frend, legislative correspondent and Susan Williams, foreign policy legislative assistant from Senator Mike DeWine's office.
Representatives from Connecticut, Washington, DC, Missouri, Texas, California, Ohio, New York, Minnesota, Iowa, Alabama, and North Carolina reported on successes in 2006 and gave an overview of planned activities for 2007. The case study for this year's briefing was the Ohio Credit Union League, Corporate One Federal Credit Union, WOCCU-Bolivia and the Bolivian Credit Union System and World Council. This international partnership focused on technology and connecting credit unions in Bolivia with a shared branching system. In the beginning the partnership helped to connect a small pilot group of credit unions, implement a national remittances network by fax and eventually developed a shared branching system that boasts 60 points of service throughout the country with a web based platform. This was all possible through the guidance and expertise of the International Partnership relationship.
Lee Butke, CEO of Corporate One Federal Credit Union explained, "I believe that it's our mission to serve credit unions and help them serve their members. It is part of everyone's job description—helping people. Being able to make a difference in the lives of our partner is important." The partnership briefing was scheduled in conjunction with "hike the hill" visits to congressional representative offices on International Credit Union Day. One staffer, Jessica Frend, legislative correspondent for Senator Mike DeWine (R-Ohio), who met with credit union representatives explained, "We learned a lot about the role of credit unions and their work inside and outside of the United States."
World Council of Credit Unions is the global trade association and development agency for credit unions. World Council promotes the sustainable development of credit unions and other financial cooperatives around the world to empower people through access to high quality and affordable financial services. World Council advocates on behalf of the global credit union system before international organizations and works with national governments to improve legislation and regulation. Its technical assistance programs introduce new tools and technologies to strengthen credit unions' financial performance and increase their outreach.
World Council has implemented 300+ technical assistance programs in 89 countries. Worldwide, 68,882 credit unions in 109 countries serve 235 million people. Learn more about World Council's impact around the world at www.woccu.org.