World Council now offers online learning courses
New collaboration with eLeadership Academy begins
April 16, 2018
MADISON, Wis. – The World Council of Credit Unions (WOCCU) announces new online learning programs, bolstering organized, educational offerings for its members and the global credit union community.
"We are pleased to expand our learning opportunities to include online programs, contributing to the professional development of our members and adding to the face-to-face educational programs offered thus far," said Paul Treinen, World Council COO.
Through our partnership with eLeadership AcademyTM, interested participants can register for two online programs to better equip today's established and emerging leaders to reach the next level of effectiveness, productivity and leadership growth.
The eight-week programs, eLEAD and eCOACH, both consist of blended learning through online reading, videos, self-assessments, webinars, discussion forums and assignments. Participants can participate in the courses anytime, anywhere convenient to their schedule. Upon completion of the courses, the participants will have developed concrete action plans to support their continued growth.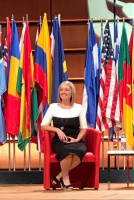 "We are thrilled to partner with WOCCU to offer eLeadership AcademyTM programs worldwide as a cost-effective and convenient way to grow leadership and coaching effectiveness within the credit union system. The online nature of our programs results in much lower cost per person than traditional in-house or on-site facilitated programs and has proven valuable for participants," said Sandra McDowell, eLeadership AcademyTM founder/faculty and featured presenter at past World Credit Union Conference events, addressing the 2017 Global Women's Leadership Network and the 2016 World Council Young Credit Union Professionals forum. McDowell is a driving force for increased leadership and coaching capacity in her executive role within the credit union system.
To register and learn more about the fall session deadlines and informational webinars on the eLEAD and eCOACH programs, visit www.woccu.org/eLearning.


About eLeadership AcademyTM
The eLeadership AcademyTM offers turnkey solutions for organizations looking to increase leadership and coaching capacity and effectiveness, while leveraging the benefits of web-based, faculty-led training. The programs have been offered to credit unions since 2014, with 100% of past participants indicating that they would recommend the programs to others. eLeadership AcademyTM has proven effective for leadership development at all levels; from emerging leaders to CEO. For more information, visit www.e-leadershpacademy.com.
World Council of Credit Unions is the global trade association and development platform for credit unions. World Council promotes the sustainable development of credit unions and other financial cooperatives around the world to empower people through access to high quality and affordable financial services. World Council advocates on behalf of the global credit union system before international organizations and works with national governments to improve legislation and regulation. Its technical assistance programs introduce new tools and technologies to strengthen credit unions' financial performance and increase their outreach.
World Council has implemented 300+ technical assistance programs in 89 countries. Worldwide, 89,026 credit unions in 117 countries serve 260 million people. Learn more about World Council's impact around the world at www.woccu.org.