World Council's Caribbean Relief Fund Raises Over $100,000
Global Community Comes Together To Support Credit Unions
November 27, 2017
MADISON, Wis – The World Council of Credit Unions (WOCCU) will answer the call to help Dominica Credit Union League after the major devastation following Hurricanes Maria and Irma, two of the strongest storms ever to hit the Caribbean.
In the two short months since the hurricanes struck the Caribbean and U.S., WOCCU has raised over $100,000 through the Caribbean Disaster Relief Fund. Credit unions from across the U.S. and Canada continue to contribute, making this a global effort. "It's the most endearing part of being involved in the credit union system. When there is a disaster like this credit unions are the first on the ground providing assistance and sister credit unions from around the world also step in to provide support. It's inspiring," said Brian Branch, World Council president and CEO.
Thanks to generous support from American Heritage Federal Credit Union, Carolinas Credit Union Foundation, Coastal Federal Credit Union, CUNA Mutual Group, Ideal Credit Union, Schools First Federal Credit Union, as well as contributing credit unions and individuals worldwide, the Caribbean Relief Fund will be used for reconstruction and repair to support the Dominica credit unions and their 75,000 plus members impacted by Hurricane Maria. Damage to credit union physical facilities reported in Dominica from Hurricane Maria includes loss of roofs, windows, gates, air conditioning units as well as the destruction of office equipment and damage to ceilings, electrical wiring and floors. The loss many suffered is significant and efforts of restoration and rebuilding is estimated to take years.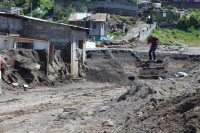 The Worldwide Foundation for Credit Unions, the official gift-receiving and grantmaking arm of World Council, continues the ongoing campaign through the Caribbean Relief Fund. Over the past four years, the Foundation has delivered nearly $1 million in aid to credit union organizations affected by natural disasters in the Philippines, Nepal, Ecuador, Malawi and Colombia.
Click
here
to make a donation for Caribbean Relief Efforts.
World Council of Credit Unions is the global trade association and development platform for credit unions. World Council promotes the sustainable development of credit unions and other financial cooperatives around the world to empower people through access to high quality and affordable financial services. World Council advocates on behalf of the global credit union system before international organizations and works with national governments to improve legislation and regulation. Its technical assistance programs introduce new tools and technologies to strengthen credit unions' financial performance and increase their outreach.
World Council has implemented 300+ technical assistance programs in 89 countries. Worldwide, 85,400 credit unions in 118 countries serve 274 million people. Learn more about World Council's impact around the world at www.woccu.org.