World Council's Crear and Branch Welcomed at Dominican Republic AGM
September 08, 2006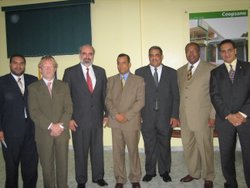 (l-r) Rubén Bonilla, account manager, CUNA Mutual Group; Lorenzo Goetz, CEO, COSEFI; Brian Branch, COO, WOCCU; Darío Lantigua, CEO, Coopsano; Virginio Rafael Gerardo, executive director, AIRAC; Pete Crear, CEO, WOCCU; Javier Tejeda-Vera, vice president, CUNA Mutual Group–Caribbean/Latin America.
World Council of Credit Unions' Dominican Republic member, Asociación de Instituciones Rurales de Ahorro y Crédito, Inc. (AIRAC), hosted CEO Pete Crear and Brian Branch, Chief Operating Officer, at their Annual General Meeting, August 25-26.
AIRAC invited Crear and Branch to address the assembly on international credit union issues. During his lecture, Crear outlined current challenges and practices in the international credit union system. He praised the Dominican Republic's accomplishments in technological innovation, which has included the development of a service corporation that offers accounting systems to credit unions. Crear also reminded attendees that innovation and progress require constant exploration for improvement. He encouraged the movement to remain at the forefront and continue seeking ways to improve technology as times and needs change.
"Working collaboratively, solutions are found and implemented," Crear told the attendees. "So what are our opportunities?"
Credit unions in the Dominican Republic are currently working with legislators, the Central Bank and Government Cooperative Institutes to develop policies for credit union legislation and supervision. AIRAC has been helping credit unions prepare for many required financial standards and internal controls that will come under the new regulatory framework.
Branch shared his expertise on the topic in his presentation on credit union supervision. Emphasizing the tenets of the "credit union difference", Branch discussed models for supervision, steps in regulatory transition and international standards in regulation and governance.
"World Council and CUNA Mutual are committed to collaborating and working together with AIRAC to support a positive transition of credit unions to a strengthened regulatory framework," Branch said.
Javier Tejeda-Vera, vice president of CUNA Mutual Group–Caribbean/Latin America, also shared results of a survey they had conducted regarding the state of the credit union movement in Latin America.
AIRAC is the World Council representative in the Dominican Republic and is closely affiliated with CUNA Mutual Group. AIRAC represents 14 credit unions with close to 176,000 members.
World Council of Credit Unions is the global trade association and development agency for credit unions. World Council promotes the sustainable development of credit unions and other financial cooperatives around the world to empower people through access to high quality and affordable financial services. World Council advocates on behalf of the global credit union system before international organizations and works with national governments to improve legislation and regulation. Its technical assistance programs introduce new tools and technologies to strengthen credit unions' financial performance and increase their outreach.
World Council has implemented 300+ technical assistance programs in 89 countries. Worldwide, 68,882 credit unions in 109 countries serve 235 million people. Learn more about World Council's impact around the world at www.woccu.org.