World Credit Union Conference Opens with Canadian Fanfare
More than 2,000 attendees represent 61 countries for four packed days in Canada's capital
July 15, 2013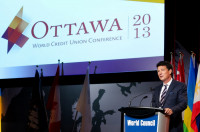 Daniel Burns, World Council treasurer and chair of Credit Union Central of Canada, which is co-hosting the World Credit Union Conference, welcomed attendees to Ottawa. Burns noted the event's proximity to the birthplace of Canada's credit unions by Alphonse Desjardins in Quebec. Desjardins later crossed paths with Edward Filene, who founded the movement in the United States.
OTTAWA, Canada — World Council of Credit Unions officially welcomed 2,376 attendees from 61 countries at the Ottawa Convention Centre in Ottawa, Canada, Sunday evening for the opening ceremonies of its 2013 World Credit Union Conference. From July 14–17, participants will network and learn from top industry experts on topics such as mobile banking, social media and corporate leadership.
The conference opened with World Council's famed international parade of flags, in which flag bearers donned colorful national attire to recognize the 61 countries in attendance. The audience, with impressive Canadian representation, also received a traditional circus performance from Canada's Cirque Fantastic and stood for the nation's anthem, performed by a retired Royal Canadian Mounted Police staff sergeant.
World Council Chair Manuel Rabines, general manager of Federación Nacional de Cooperativas de Ahorro y Crédito del Peru (FENACREP), the trade association serving Peru's credit unions, welcomed attendees to the event.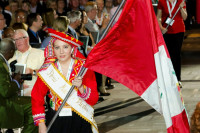 Flag bearers donned national attire to represent the 61 countries in attendance during the international parade of flags on Sunday.
"During my travels here from Peru, I reflected upon the great differences that exist in this world that we share," Rabines said. "Despite those differences, there is a common denominator throughout — the credit union model. This model offers a variety of solutions to common problems and is continuously evolving."
Conference attendees heard from Member of the Canadian Parliament and Liberal Advocate for Co-operatives Mauril Bélanger, who spoke in English, French and Spanish, recognizing the importance of the audience's international cooperative efforts.
"I've come to believe credit unions are an element to the solution to some of the world's economic challenges," Bélanger said. "The principles on which cooperatives are built offer real solutions to the vast and complex problems facing humanity."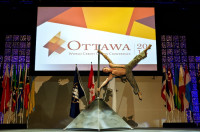 Cirque Fantastic put on a stunning performance to officially kick off the 2013 World Credit Union Conference.
World Credit Union Conference co-host Credit Union Central of Canada (CUCC) is celebrating its 60th anniversary this year. World Council Treasurer Daniel Burns, CUCC chair, gave participants a brief lesson on Canada's cooperative history, which sparked growth in many other nations' credit union movements.
"Canada's credit union movement began not far from here in 1900 by Alphonse Desjardins who founded what has become one of the greatest credit union movements today. Around that time, he crossed paths with [Edward] Filene from the United States," Burns said. "It's so appropriate to have the conference here in Ottawa because it was the crossroads of credit union leaders in the past, and it is again today."
Prior to Sunday's opening, the conference hosted several other events, including the fifth annual Global Women's Leadership Forum on Sunday. A total of 114 women credit union leaders from around the globe gathered to network, attend educational sessions and hear from keynote speaker Sheryl WuDunn, co-author of New York Times best-seller Half the Sky: Turning Oppression into Opportunity for Women Worldwide, who presented research from her book and participated in a panel discussion centered on advancement of women leadership in credit unions.
The Worldwide Foundation for Credit Unions hosted a golf outing on Saturday and raised nearly US$105,000 to support the Global Women's Leadership Network and World Council programs that benefit women and their families in emerging countries.
More than 70 Spanish-speaking attendees participated in the Latin American Congress hosted by World Council on Saturday, which focused on topics related specifically to credit unions in that region, including technology, message development and regulations.
World Council's Young Credit Union People (WYCUP) program also held its networking and educational session for credit union leaders age 35 and younger Sunday afternoon, during which online communications expert Shel Holtz shared insights on credit union branding through social media. Fifty-eight people from 12 countries attended the session and will participate in several more events throughout the conference specifically designed for young professionals.
The 2013 World Credit Union Conference concludes July 17 with a closing reception at the state-of-the-art Canadian Museum of Civilization.
Follow conference activities, including daily event photos, on World Council's Facebook and Twitter pages at www.facebook.com/WOCCU and www.twitter.com/WOCCU with #WCUC2013.
World Council of Credit Unions is the global trade association and development agency for credit unions. World Council promotes the sustainable development of credit unions and other financial cooperatives around the world to empower people through access to high quality and affordable financial services. World Council advocates on behalf of the global credit union system before international organizations and works with national governments to improve legislation and regulation. Its technical assistance programs introduce new tools and technologies to strengthen credit unions' financial performance and increase their outreach.
World Council has implemented 300+ technical assistance programs in 89 countries. Worldwide, 68,882 credit unions in 109 countries serve 235 million people. Learn more about World Council's impact around the world at www.woccu.org.
NOTE: Click on photos to view/download in high resolution.