Young Credit Union Professionals Honored at World Conference
August 01, 2006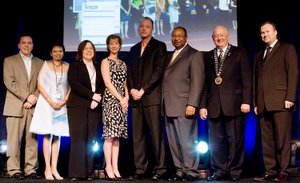 WYCUP winners Darcy Mykytyshyn, Shoba Gunasekaran, Anne-Marie Coffey, Alison Carr and Tom Atkins congratulated by WOCCU CEO Pete Crear, Board Chairman Gary Plank and WYCUP Committee Chairman Grzegorz Bierecki.
Dublin, Ireland—Five young credit union professionals stepped into the spotlight as the 2006 WOCCU Young Credit Union People (WYCUP) award winners at the closing session of the World Credit Union Conference in Dublin, Ireland, July 30.
Earning this year's prestigious WYCUP award with their proven dedication and enthusiasm for the credit union movement were: Tom Atkins, Training and Youth Services Program Development Manager, Nelson and District Credit Union, Nelson, British Columbia, Canada; Alison Carr, Vice President of Corporate Development, Point West Credit Union, Portland, Oregon, USA; Anne-Marie Coffey, Board Director, Youth Officer and National Youth Committee Member, Enfield Credit Union, Ltd., Enfield, Ireland; Shoba Gunasekaran, General Manager, Telecoms Credit Co-operative, Ltd., Singapore; and Darcy Mykytyshyn, Vice President of Corporate Development, Community Credit Union, Ltd., Red Deer, Alberta, Canada.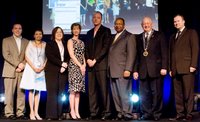 WYCUP nominee Deeynar León, FENECOAC (Guatemala), participating in the networking session.
This is the sixth straight year that WOCCU has organized the WYCUP scholarship program for credit union professionals and volunteers under the age of 35. In conjunction with the World Credit Union Conference, WYCUP nominees participate in networking and social events to share and learn about worldwide credit union issues. From this group, five winners are selected each year based on submitted application materials that support the individual's contributions to the credit union movement and potential to influence the international community. WOCCU awards WYCUP winners a trip to the following year's World Credit Union Conference. Members of the 2006 WYCUP selection committee were Board Chairman Grzegorz Bierecki (Poland), Mark Bailey (Ireland), Síncrito Cifuentes (Guatemala), Neil McDonald (New Zealand) and Catherine Roberts (USA).
The 2006 participants included 35 nominees from 10 countries: Miluska Allain Zaubitz (Peru), Tom Atkins (Canada), Kevin Boersma (Canada), Eric Bruen (USA), Alison Carr (USA), Helen Carroll (Ireland), Anne-Marie Coffey (Ireland), Martin Cumiskey (Ireland), Hannah Curtis-Webb (UK), Chris Dickin (Canada), Julie Ferguson (Ireland), George Greenwood (Canada), Shoba Gunasekaran (Singapore), José Gabriel Gutiérrez Rendón (Mexico), Sheila Hynes-Brenton (Canada), Pauline Kelly (Ireland), Shari Leitch (Canada), Deeynar Estuardo León (Guatemala), Kimberly Loewen (Canada), Marissa Lott (USA), Anna Łucka-Babiarz (Poland), Sharon McCotter (Ireland), Yvonne McHugh (Ireland), Greg McQueen (Canada), Rachell Mio (New Zealand), Telma Beatriz Morejon Morales (Guatemala), Darcy Mykytyshyn (Canada), Kristin Parker (USA), Jessica Richardson (USA), Ken Robison, (New Zealand), Pedro Gustavo Rodriguez Huerta (Peru), Zbigniew Rutkowski (Poland), Piotr Siudak (Poland), Dawid Słomian (Poland) and Cristina Zevallos Rosas (Peru).
Three of last year's winners attended the 2006 conference free of charge and assisted with the WYCUP program: Tina Hall, Verity Credit Union (USA); Karla Herrera, FENACOAC (Guatemala); and Sandra Phillips, Powell River Credit Union Financial Group (Canada).
World Council of Credit Unions is the global trade association and development agency for credit unions. World Council promotes the sustainable development of credit unions and other financial cooperatives around the world to empower people through access to high quality and affordable financial services. World Council advocates on behalf of the global credit union system before international organizations and works with national governments to improve legislation and regulation. Its technical assistance programs introduce new tools and technologies to strengthen credit unions' financial performance and increase their outreach.
World Council has implemented 300+ technical assistance programs in 89 countries. Worldwide, 68,882 credit unions in 109 countries serve 235 million people. Learn more about World Council's impact around the world at www.woccu.org.