Haiti: World Council to Explore Mobile Utility Payment Solutions for Sustainable Electricity Program
Study builds on existing World Council initiatives to expand availability of mobile money in Haiti
July 11, 2013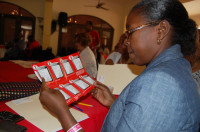 The use of mobile money is growing in Haiti. Yvrose Joseph (pictured above), World Council director of financial products and services in Haiti, reads Digicel's TchoTcho Mobile instructions for its mobile wallet services at a recent event. World Council is also exploring mobile utility payments in northeastern Haiti and is working with the country's credit unions to implement the Boom mobile banking product.

MADISON, Wis. — The U.S. Agency for International Development (USAID) in Haiti is funding the formation of Haiti's first electric utility to provide 24/7 power, and World Council of Credit Unions will be researching the feasibility of mobile bill payments for the utility's customers.
USAID's US$24 million, three-year Pilot Project for Sustainable Electricity Distribution (PPSELD) program will provide electricity to at least 5,000 customers in northeastern Haiti. NRECA International, Ltd., is managing the program (see NRECA's news release), which involves World Council, ESD Engineering S.R.L. and The Cadmus Group, Inc., as partners. World Council will examine the preferences and availability of traditional financial services and mobile money options among current and potential customers in Caracol, Terrier Rouge, Trou du Nord and Limonade.
"The selection of World Council as part of the PPSELD program offers an exciting step forward in Haiti's mobile payment environment," said Brian Branch, World Council president and CEO. "Involving a financial service organization with ties to the country's locally owned caisses populaires [credit unions] demonstrates Haiti's commitment to developing true, homegrown mobile banking services for its people."
World Council has managed the Haiti Mobile Money Initiative (HMMI), funded by USAID and the Bill & Melinda Gates Foundation, since it began in 2010, six months after the country's devastating earthquake. HMMI is a US$10 million incentive fund to jumpstart financial services via cellphones in Haiti and to expedite the delivery of cash assistance from humanitarian agencies to earthquake victims.
Digicel's TchoTcho Mobile, which received the HMMI's "first-to-market" award last year, gives people the ability to load, transfer and receive stored cellphone value and pay for goods using their cellphones. With substantial technical assistance from HMMI, Digicel's TchoTcho Mobile recently migrated its technology to a high-capacity platform and broadened its agent network to better support mobile money expansion in Haiti. The new platform includes a mobile bill payment system among other customized services.
In June, World Council provided software and technical assistance to the Le Levier Federation of credit unions to launch the Boom mobile banking product. It is the first mobile product in Haiti to connect user transactions to credit union current accounts rather than use stored cellphone value. Offered by more than 60 credit union locations nationwide, Boom offers Haitians the ability to register, deposit and transfer funds to registered and unregistered users for free and to make low-cost cash withdrawals within seconds via their cellphones. Boom also allows Haitians to store and transfer larger amounts of funds than is otherwise available via mobile wallet solutions.
The Le Levier Federation is composed of 20 federated credit unions and 27 client credit unions collectively compromising 70 locations in all 10 departments of Haiti. Le Levier's affiliated credit unions serve more than 360,000 families throughout the country.
World Council of Credit Unions is the global trade association and development agency for credit unions. World Council promotes the sustainable development of credit unions and other financial cooperatives around the world to empower people through access to high quality and affordable financial services. World Council advocates on behalf of the global credit union system before international organizations and works with national governments to improve legislation and regulation. Its technical assistance programs introduce new tools and technologies to strengthen credit unions' financial performance and increase their outreach.
World Council has implemented 300+ technical assistance programs in 89 countries. Worldwide, 68,882 credit unions in 109 countries serve 235 million people. Learn more about World Council's impact around the world at www.woccu.org.