WOCCU Hosts Fifth SACCA Africa Congress
Record Attendance--300 Leaders Representing 19 Countries
October 20, 2004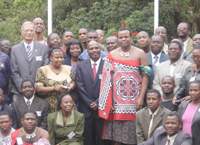 SACCA Congress participants pose with the King of Swaziland
Madison, WI-World Council of Credit Unions, Inc. (WOCCU) teamed up with the Canada Co-operative Association (CCA), the Irish Credit Union Foundation, and the Swaziland Association of Savings and Credit Cooperatives (SASCCO) to host the annual Savings and Credit Co- operative Association Africa (SACCA) Congress. Over 300 credit union leaders from 19 countries met in Mbabane, Swaziland to discuss issues affecting different regions and credit union movements in Africa.
Attendance this year was at a record high. "Attendance clearly demonstrates the increasing importance of credit unions in the microfinance industry in Africa," noted Erick Sile, WOCCU technical officer for Africa and a key organizer for the event. "Not only did we have credit union staff and volunteers eager to learn about ways to turn their institutions into more efficient and viable financial institutions, but we also observed an increasing number of government and central bank officials seeking best practices that will help them regulate credit unions in their countries," he continued. Sylvester Kadzola, WOCCU board director and Malawi delegate, added, "there is a growing interest in national movements to join WOCCU as direct members. It is very likely that before the end of this year there will be two or more membership applications submitted to WOCCU."
The King of Swaziland, His Majesty Mswati III was a special guest at the conference, as was the Prime Minister. In his opening speech, the King welcomed participants to his country and encouraged the SACCOs to continue to reach out to the underserved. He spoke of the threat HIV/AIDS poses to Africa and asked everyone involved in the cooperative movement to act as an agent to fight against the spread of this deadly disease. He also praised the credit union movement for the role it plays in the Swaziland economy by reaching out to people in the rural areas and offering financial services to the vast majority of Swazi who are not served by commercial banks.
The SACCA Congress gathers representatives of savings and credit cooperatives (African credit unions) on a yearly basis to exchange ideas and perspectives. Attendees to this year's Congress participated in informative lectures and workshops facilitated by credit union leaders from around the world, including WOCCU board member Sylvester Kadzola; WOCCU president and CEO Arthur Arnold; Louisiana Credit Union League CEO Anne Cochran; Canadian Cooperative Association's senior director of international development Jo- Anne Ferguson; WOCCU delegate and representative of the Irish League of Credit Unions, Kay Geoghegan; and Swaziland Credit Union League CEO Bongani Masuku among others.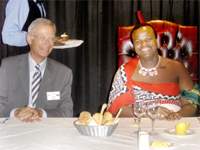 l-r: Arthur Arnold, WOCCU president and CEO and His Majesty Mswati III discuss african SACCOs
Topics at this year's Congress focused on the importance of strategic planning, managers' responsibilities, financial disciplines, approaches to lending, business planning, asset liability management, savings mobilization, and marketing and the importance of technology. In addition, there were case studies on Rwanda, Kenya, Malawi, Ghana, Canada and Ireland.
Good governance was also a focal point throughout the conference. Recently named WOCCU's fourth mission (in addition to being an advocate for credit unions, providing a platform for knowledge exchange and being the leading development group), governance is a critical issue for credit unions everywhere, particularly in Africa.
Good governance in all areas of the world is essential to fighting corruption in the credit union system, and a clear definition of roles within the system is essential to ensuring good governance. Sile explained, "We hope that the role of management and the board of directors will become clear at this conference, since both groups will be present."
Plans for the 2005 SACCA Congress, hosted in Cote d' Ivoire (the Ivory Coast), will begin early next year.
World Council of Credit Unions is the global trade association and development platform for credit unions. World Council promotes the sustainable development of credit unions and other financial cooperatives around the world to empower people through access to high quality and affordable financial services. World Council advocates on behalf of the global credit union system before international organizations and works with national governments to improve legislation and regulation. Its technical assistance programs introduce new tools and technologies to strengthen credit unions' financial performance and increase their outreach.
World Council has implemented 300+ technical assistance programs in 89 countries. Worldwide, 89,026 credit unions in 117 countries serve 260 million people. Learn more about World Council's impact around the world at www.woccu.org.