2023 Distinguished Service Award
The Distinguished Service Award (DSA) is the international credit union system's highest honor, first presented by World Council in 1986 to recognize member organizations and individuals for their outstanding contributions to credit union development outside their home country. Nominations for the 2023 Distinguished Service Award are now open. Click here to fill out a nomination form.
2023 Nomination Categories
World Council member organizations may submit nominations in the following categories:
DSA Individual: Individuals who have provided exemplary service to the international credit union movement and have positively influenced credit union development outside their home country qualify for the individual category.
DSA Institutional: Organizations that have provided financial and technical assistance over an extended period of time to develop international credit union movements and their service infrastructure may be nominated in the institutional category.
2023 Nomination Criteria
The World Council awards committee reviews all nominations and selects the DSA recipients. Only World Council member organizations may make DSA nominations. Individuals nominated for the award should demonstrate some or all of the following:
Personal history of commitment to international credit union development outside the nominee's home country.
A record of technical service to the development of other credit union movements beyond their own national boundaries.
Ongoing institutional development by playing a leading role in advancing World Council.
Ability to locate and mobilize resources needed by World Council and its affiliates to establish strong credit union movements wherever they are sought.
Institutions nominated for the DSA must meet the following qualifications:
Ongoing commitment to international credit union development for more than three years.
Technical assistance provided beyond the nominee's borders has led to measurable results within the region receiving it and has an ongoing history following the end of the period of assistance.
The range of programs funded has led to concrete changes and development as anticipated beyond their borders.
Previously nominated individuals or institutions that have not been selected may resubmit their candidature for consideration with updated documentation.
Nomination Checklist
Completed nomination form
Board resolution from the nominating organization approving the nomination
If nominated by an affiliate of a World Council member organization, the affiliate must also present an endorsement by its member organization
For individuals, a resume
For individuals, a color photograph of the nominee (professional quality headshot)
For institutions, a color logo (preferably in an .eps file format)
15–20 photos featuring the nominee's international work
Submission Deadline
To nominate a candidate, please submit the items listed above in the nomination checklist.
DSA nominations are due Friday, March 10, 2023.
Notifications
World Council will notify nominees by May 1, 2023, whether they have been selected as winners. World Council will provide the DSA recipient with a complimentary 2023 conference registration.
Award Presentation
World Council will present DSA winners with their award during the 2023 World Credit Union Conference in Vancouver, B.C. (Canada), July 23-26.
2022 Winner
World Council presented the 2022 Distinguished Service Award (DSA) to Marshall Boutwell, President and CEO, Peach State Federal Credit Union (USA). He was nominated by the Association of British Credit Unions Limited (ABCUL) for his long history of engagement with credit unions in Poland and Great Britain. Boutwell was one of the original participants in the Georgia-Poland Partnership, which links credit union executives from the U.S. State of Georgia with their counterparts in Polish credit unions. Since 2016, Boutwell has also supported two different British credit unions in their development journey—offering guidance, expertise, access to his team, exchange visits and direct financial contributions to support the ABCUL Credit Unions Futures program (an immersion program to develop young leaders).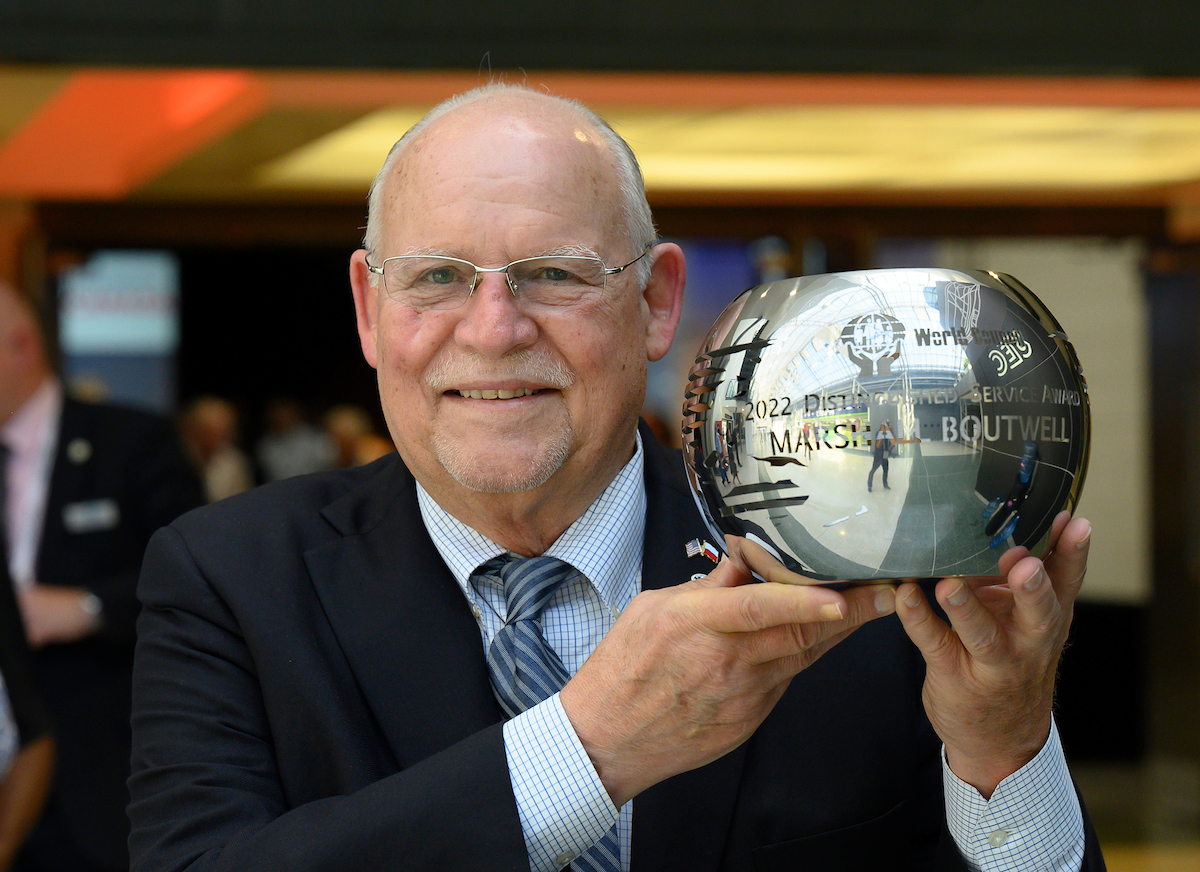 Past Winners
2021 DSA Winner



2020 DSA Winner

Indiana Credit Union League - USA

2019 DSA Winners

Sylvester Kadzola - Malawi
Sistema OCB - Brazil

2018 DSA Winner

Adam Jedlinski (posthumous) - Poland

2017 DSA Winners


Dean Mahon (posthumous) - USA
Grzegorz Bierecki - Poland
Ukrainian National Credit Union Association - USA
Global Women's Leadership Network - USA

2016 DSA Winners

Bill Cheney - USA
Ron Hance - USA
Virginia-Estonia International Partnership - USA-Estonia

2015 DSA Winners

Dick Ensweiler - USA
Scott Kennedy - Canada
Roberto Rodrigues - Brazil
Aloun Ndombet-Assamba - Jamaica

2014 DSA Winners

Rob Nicholls - Australia
Michael Koisen - Papua New Guinea

2013 DSA Winners

Pete Crear - USA
Melvin Edwards - St. Kitts & Nevis
Pat Fay - Ireland

2012 DSA Winner


2011 DSA Winner

2010 DSA Winners

Harriet May - USA
Lech Kaczyński - Poland
Credit Union Executives Society - USA

2009 DSA Winners

David Chatfield - USA
Wayne Nygren - Canada

2008 DSA Winners

Chris Baker - USA
Karen Schwartz - USA
Credit Union Foundation of Australia

2007 DSA Winners

L.R. Bobby McVeigh - Canada
Foundation for Polish Credit Unions - Poland

2006 DSA Winner

2005 DSA Winners

Gerry Foley - Ireland
Roman Catholic Church - Vatican City

2003 DSA Winners

Henry Cruz - USA
Joseph Cugini - USA
Dennis Cutter - USA
John Nicholson - Canada
Alan Parry - Australia
Reverend James Oswald Thorbourne - Jamaica
Herb Wegner (posthumous) - USA
U.S. Peace Corps - USA

2000 DSA Winners

Angel Castro - Panama
Al Charbonneau - Canada & USA
Rose Dorman - Great Britain
Renford Douglas - Jamaica
Michael Sang-Ho Lee - Korea
Tod Manrell - Canada
Hermann Schulze-Delitzsch - Germany
Friedrich Wilhelm Raiffeisen - Germany
Alphonse and Dorimène Desjardins - Canada
Edward A. Filene - USA
Roy Frederick Bergengren - USA

1997 DSA Winners

Everard Dean (posthumous) - Trinidad and Tobago
Augustine Kang - Asia
Augustine "Gus" Murray (posthumous) - Ireland
Joe Perkowski - USA
O.W.A. Baron von Verschuer - Netherlands
Albert E. Williams (posthumous) - USA
Canadian Co-operative Association - Canada

1994 DSA Winners

Florencio Eguía Villaseñor - México
Henry William (Bill) Howe - Australia
William A. Atkins - USA
Richard M. Heins, Ph.D. - USA
Alex Gracie - Canada
Robert L. Wermuth - USA
ILCU International Development Foundation, Ltd. - Ireland
Credit Union Foundation - USA

1991 DSA Winners

Armando Terán - Panamá
Colin Smith (posthumous) - New Zealand
R.C. Robertson - USA
R.C. Morgan (posthumous) - USA
Paul Hebert - USA
Jack Dublin - USA
United States Agency for International Development
Canadian International Development Agency

1988 DSA Winners

Bartholomew Quainoo - Ghana
Kenneth Miller - Australia
Robert Ingram - Canada
Lorrell S. Bruce - Jamaica
Konrad Adenauer Foundation - Federal Republic of Germany
CUNA Mutual Insurance Group - USA

1986 DSA Winners

A. A. Bailey - Jamaica & USA
Marion Ganey - USA & Fiji
A. Rod Glen - Canada
MISEREOR - Federal Republic of Germany
Coady International Institute - Canada