Peru, Ecuador
Economic Inclusion Project
Connecting Venezuelan Migrants and Low-income Locals to Financial Services, Employment and Entrepreneurship

June 2020 - June 2023
Project Overview
Declining economic conditions, and a corrupt and oppressive political regime in Venezuela are the leading causes of a rapid increase in migration. Despite rich natural resources, the economy has been in decline since 2013, leading to hyperinflation, high unemployment, food scarcity and rapidly deteriorating social services. Economists interviewed by the New York Times have called the crisis "the Worst Outside of War in Decades[1].
The UN International Office of Migration estimates that five million individuals have migrated from Venezuela, With an estimated one million Venezuelan refugees and migrants in Peru[2] and over 450,000 in Ecuador,[3]. Despite international pressure, the political, social and economic situation in Venezuela continues to decline, leaving migrants no choice but to stay and build a life in their new communities. Not only are Peru and Ecuador forced to address humanitarian needs, but the countries must also now address complex economic challenges including migrants' legal rights to live and work, ensuring local economic integration, and preventing discrimination, gender-based violence, and xenophobia.

Understanding the need for rapid assistance to Peru and Ecuador, WOCCU, with funding from USAID, will implement an ambitious and innovative approach aimed at providing economic opportunities and financial services to assist both the newly arrived Venezuelans and their host communities. Initiated in June 2020, the three-year Economic Inclusion Project aims to support 100,000 Venezuelan migrants and refugees in Peru and Ecuador to achieve socio-economic security.
To reach its goal, the Economic Inclusion Project has adapted and implemented entrepreneurship (Objective 1) and employment (Objective 2) training programs targeted at migrants and refugees considered above the level of immediate vulnerability. WOCCU also works with its trusted network of credit union, NGO, and private sector partners to extend new or adapted financial products and services to vulnerable Venezuelans and local populations (Objective 3). In response to the significant impact that gender disparities have on economic independence and stability, EIP has integrated gender inclusion into the three objectives outlined above. Additionally, EIP delivers critical GBV prevention and accompaniment. This approach assists survivors of GBV in accessing the support and assistance necessary to ensure that they are able to participate in EIP activities, promoting the economic autonomy of survivors.
[2] "The Humanitarian Effects of the COVID-19 Pandemic for Venezuelans in Peru, One Year In." Refugees International, May 2021. https://www.refugeesinternational.org/reports/2021/4/5/the-humanitarian-effects-of-the-covid-19-pandemic-for-venezuelans-in-peru-one-year-in
[3] "Ecuador." ACAPS, January 6, 2021. https://www.acaps.org/country/ecuador/crisis/venezuelan-refugees-.
Objective 1: Assisting New and Existing Entrepreneurs
Through this objective, the Economic Inclusion Project is supporting both aspiring and experienced entrepreneurs with advisory services to establish a business in the host country, technical support with business planning and execution, and linkages to new markets. By the end of the project, we expect that at least 10,000 individuals will be supported with entrepreneurship or employment training through the following approach:


Figure 1: WOCCU's Entrepreneurship Methodology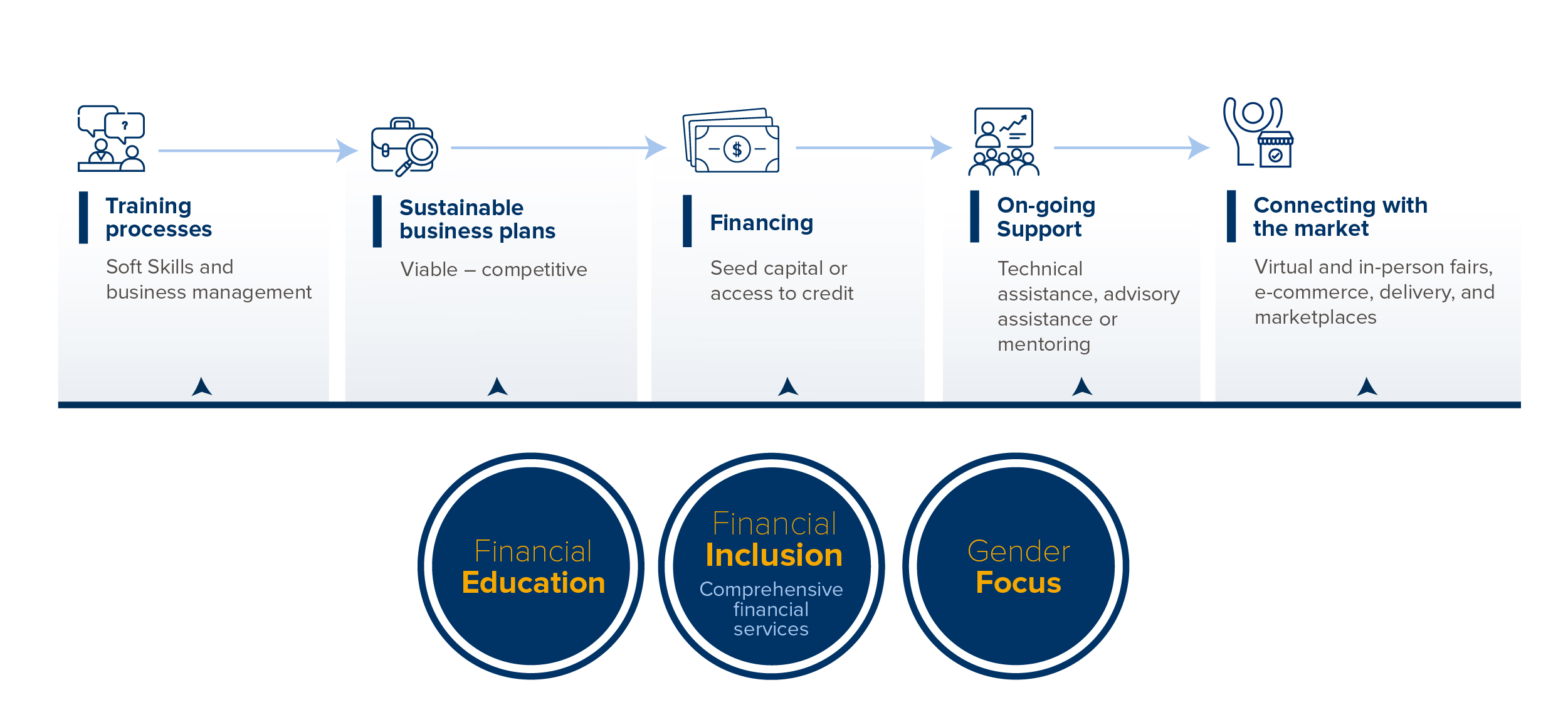 RESULTS TO DATE*:

6,739 individuals reached through entrepreneurship training programs
62% Venezuelans


74%

Women
$1,078,334 issued in seed capital, supporting 983 entrepreneurs

66%

Venezuelans
81% Women
12 partners have implemented commercial fairs, including 785 entrepreneurs in addition to a variety of other mechanisms to facilitate commercial linkages including entrepreneurial catalogs, digital marketplaces, and print media
*Data as of June 30, 2022

Objective 2: Facilitating Access to Employment
Through this objective, the Economic Inclusion Project is working with private sector employers to expand their recruitment efforts to include highly qualified Venezuelan migrants as well as Peruvians and Ecuadorians seeking new or better employment. The Project will also work to train project participants to provide them with the tools they need to meet the demand of the Peruvian and Ecuadorian job markets. By the end of the project, through the following approach, we expect that 2,500 individuals will access new or better employment opportunities leading to more stable incomes.


Figure 2: WOCCU's Employability Methodology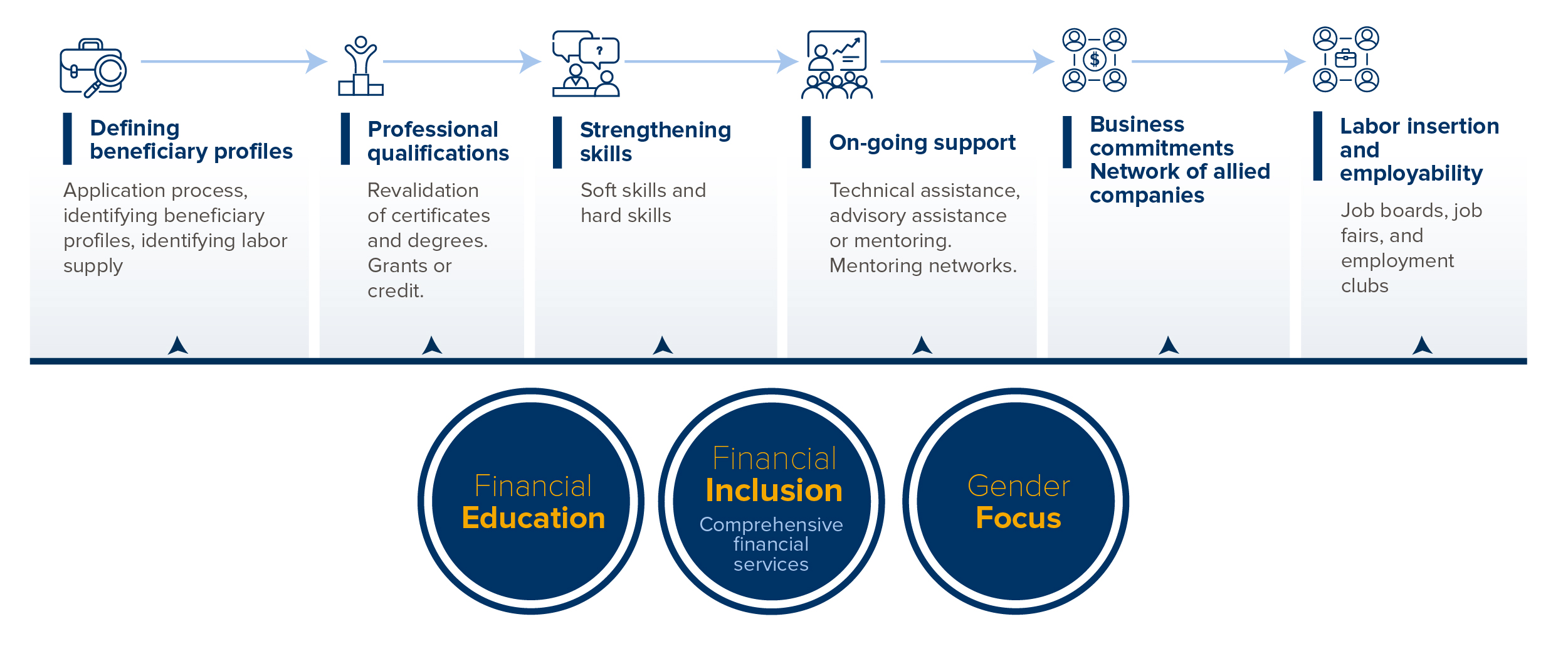 RESULTS TO DATE*:

2,529 individuals reached through entrepreneurship training programs
65% Venezuelans


67%

Women
1,204 individuals supported through the certificate or degree revalidation process
71% Women
Primary sectors are health (33.5%), education (39.3%), and

administrative (21%)



92 businesses
and
3,369 individuals
reached through employment events including job fairs, employment clubs, and [X]

*Data as of March 31, 2022



Objective 3: Increasing Access to Financial Services
Through this objective, the Economic Inclusion Project will work to support credit unions and other financial institutions to develop new or adapt existing products and services that meet the needs of Venezuelan migrants and local nationals.
Designed to be responsive to the findings of the financial inclusion study, EIP's financial inclusion methodology is founded on the premise of enabling access and use of financial products and services, particularly those that respond to EIP's target population needs. To implement this methodology, EIP works closely with a strong network of financial institutions, working side-by-side with each institution to reduce barriers to access and inclusion, develop new and responsive tools, improve processes, revise policies and procedures, implement new or adapted methodologies, and strengthen staff skills and knowledge. Through EIP's financial education training, EIP participants learn the fundamentals of personal and business financial management before being connected to the financial services sector. This approach ensures that when participants and institutions are linked, both are well prepared and educated on the other's needs and requirements. Through the following approach, we expect that over 100,000 individuals will have access to financial services by the end of the project.


Figure 3: WOCCU's Financial Inclusion Methodology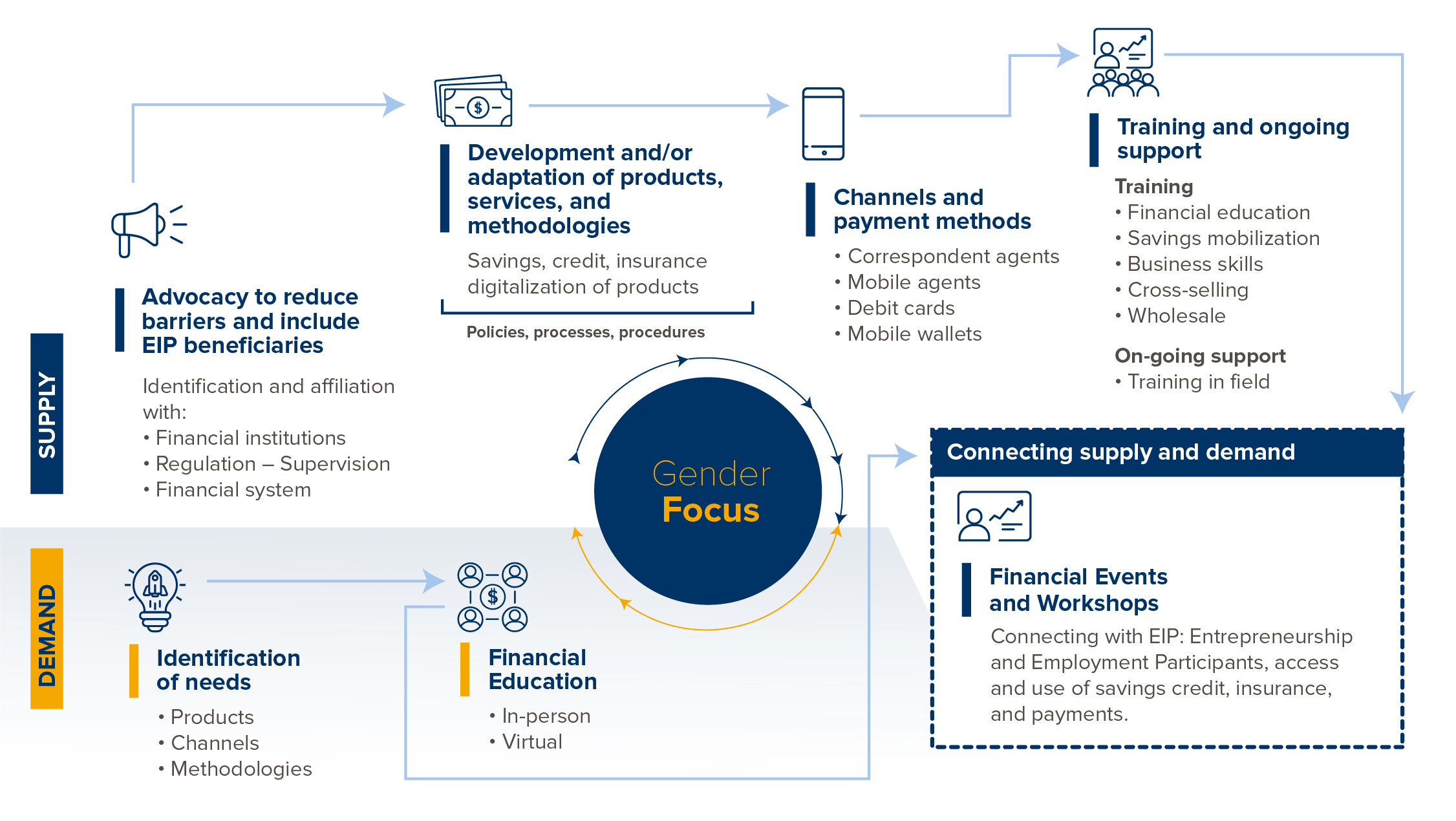 RESULTS TO DATE:

71,272 individuals connected with financial services
14 products have been developed or adjusted with partner financial service providers

4,007

loans

issued, amounting to

$6,151,173

54.5%

of all participants who have accessed financial services through EIP have been women, while

52%

of all loans have been issued to women
8,387 individuals
trained in financial education, 70% of whom are women and 47% are Venezuelan in addition to 51 organizations that have been trained on WOCCU's methodology

*Data as of March 31, 2022
Prevention of Gender-Based Violence (GBV)
EIP's GBV interventions prioritize supporting survivors of gender-based violence to achieve economic autonomy. EIP's approach focuses on a core principle – that with psychological/social support and access to income/financial autonomy, people who experienced GBV will transition to survivors with access to sustainable and quality livelihoods, income, and financial independence, contributing to their ability to leave the circle of violence. EIP has established partnerships with institutions and organizations providing continual psychosocial support for GBV survivors and with partners implementing entrepreneurship and employment trainings that emphasize empowering survivors to develop personal action plans that identify their strengths, professional and personal interests, and opportunities as well as practical steps to reach their goals. Additionally, EIP's approach includes personal financial education at its core so that individuals are empowered to take meaningful steps to exit the cycle of violence and reach economic autonomy as survivors.

Figure 4: WOCCU's GBV Response and Prevention Methodology



RESULTS TO DATE:


389 survivors of gender-based violence supported
57%

Venezuelan


67% between 18 and 35 years old
92% women
242 staff

from 16 partners trained on GBV prevention

*Data as of March 31, 2022
Featured Stories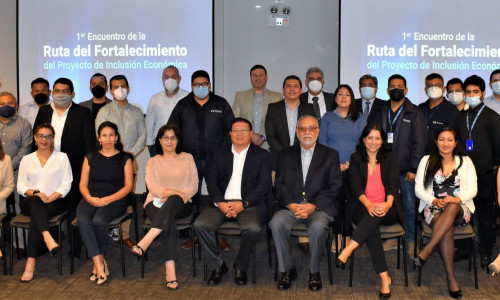 April 2022
USAID, WOCCU and FENACREP Begin 'The Strengthening Route' to Boost Financial Inclusion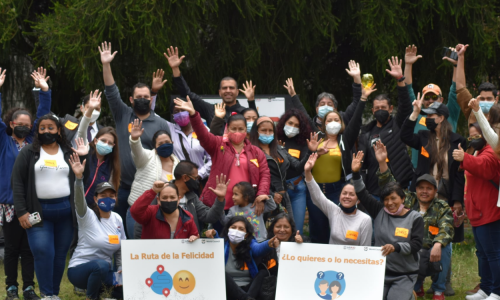 March 2022
Economic Inclusion Project Delivers Financial Education to More Than 5,000 During Global Money Week 2022