CU Governance Challenges Tops Tuesday Conference Panel Topics
There's a need for greater director responsibility and capability, panelists say
July 14, 2010
LAS VEGAS — The question of performance standards, capabilities and remuneration for credit union directors worldwide dominated discussion among regulators and economists who served as panelists during twin general session discussions Tuesday at The 1 Credit Union Conference, the joint meeting cosponsored by Credit Union National Association (CUNA) and World Council of Credit Unions (WOCCU). Situations differ for directors in Australia, Canada, Europe and the U.S., but performance requirements are the same, meaning higher levels of both responsibility and risk for volunteer and paid directors at credit unions worldwide.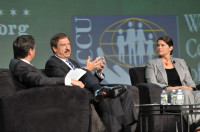 Participants in a panel focused on recent regulatory development agreed that clearer definitions of board terms and responsibilities would make governance easier to regulate. Gigi Hyland, a director for the National Credit Union Administration in the U.S.; Brandon Khoo, executive general manager for the Australian Prudential Regulatory Authority; and Andy Poprawa, president and CEO of the Deposit Insurance Corporation of Ontario, Canada, offered insights into conditions in each of their own countries.
"Currently, there are no board term limits in the U.S.," said Hyland. "That means some directors can serve 30, 40, 50 and even 60 years. While that's not necessarily a bad thing, it may mean that directors don't always have the fresh set of eyes needed to see changes in their credit union and the market."
A larger issue in many countries is the absence of board performance standards, which has the potential to pose significant risk for some credit unions, according to Andy Poprawa, who also chairs the International Regulators' Roundtable, an annual meeting that will take place Thursday after the close of the conference.
"Governance is an area of interest and also one of primary risk for global credit unions," said Poprawa. "The Regulators' Roundtable sees this and will be addressing the possible creation of global governance standards at its meeting."
Other regulatory panel discussion topics included the future of corporate credit unions and access to supplemental capital.
The second panel looked at what lies ahead for credit unions in different parts of the world. Panelists Louise Petschler, CEO of Abacus-Australian Mutuals and a WOCCU director; Bill Hampel, CUNA's SVP of research and senior economist; and Hervé Guider, general manager of the European Association of Cooperative Banks, also tackled the topic of board performance at the prompting of moderator and WOCCU director Daniel Burns, chair of Central 1 Credit Union in Canada.
"Australian credit unions are regulated to the same degree as banks and all financial institutions," said Petschler. "Directors must pass a skills test to serve. If there aren't sufficiently qualified directors on a board, the board may appoint other directors rather than wait for them to be elected by the members."
Guider agreed that directors must be able demonstrate both independence and qualifications before accepting a board position. While Australian directors are paid, European cooperative bank directors and U.S. credit union directors are unpaid. The U.S. also has no regulated standards for directors, said CUNA's Hampel, who upheld the importance of qualified candidates, but also offered a caution to the audience. "Having expertise on the board does not necessarily guarantee success," he said.
The panel also touched on the impact that new interchange fees will have on credit unions. Australia passed similar legislation several years ago, and the net result has been less flexibility and higher fees for consumers, Petschler said. Lack of member growth also became a topic of debate. Ironically, field-of-membership qualifications that once helped U.S. credit unions grow have proven to be an impediment, according to Hampel.
Among Tuesday's breakout sessions, ramifications of the National Credit Union Administration's (NCUA) Corporate Credit Union Proposal and what a new business model for corporate credit unions would look like were the topics of a panel moderated by Mary Dunn, CUNA's senior vice president and deputy general counsel. Toxic assets will need to be resolved before credit unions will contribute more capital to corporates, and a smaller balance sheet model would require more efficiency and higher fees, said CUNA's Hampel, who also participated in this session. The challenge for all corporates will be to do the right thing and add value in a more collaborative model, said panelist Brad Miller, CEO of Southeast Corporate Federal Credit Union and former president of the Association for Corporate Credit Unions. Panelist Mike Mercer, president of Georgia Credit Union Affiliates, described the events leading up to the corporate structure problems. Frank Mitchell, president of Allied Credit Union in California, said ramifications include expectations of increased investment expertise at the credit union level and concentration of risks among fewer corporates that will flow to credit unions.
Additionally, credit unions will need to treat their corporate credit union as a third party, requiring vendor due diligence.
The social networking phenomenon was explored by breakout speaker Tara Hunt, who noted that the future of financial services is taking a decidedly more personal, albeit electronic format.
"Many of your future members have never known a world without social networks," Hunt said. "Members of Gen Y don't resonate with brands that seek them out or try to sell something to them. They resonate with brands that align with their core values. Credit unions are a natural fit. As not-for-profit cooperatives, you present a wonderful alternative to banks."
The 1 Credit Union Conference runs through July 14. View conference updates and photos online at Vegas2010.org.

World Council of Credit Unions is the global trade association and development agency for credit unions. World Council promotes the sustainable development of credit unions and other financial cooperatives around the world to empower people through access to high quality and affordable financial services. World Council advocates on behalf of the global credit union system before international organizations and works with national governments to improve legislation and regulation. Its technical assistance programs introduce new tools and technologies to strengthen credit unions' financial performance and increase their outreach.
World Council has implemented 300+ technical assistance programs in 89 countries. Worldwide, 68,882 credit unions in 109 countries serve 235 million people. Learn more about World Council's impact around the world at www.woccu.org.
NOTE: Click on photos to view/download in high resolution.