Putting a Human Face on Finance
Morality of our mission tops Monday's World CU Conference agenda
July 26, 2011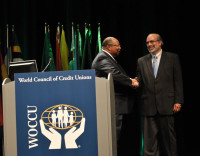 Outgoing WOCCU President and CEO Pete Crear (left) presented his successor, Brian Branch, to conference attendees during Monday's general session.

GLASGOW, Scotland — People helping people — some in extreme duress — through provision of financial services is central to the credit union philosophy, a fact that Monday's speakers at World Council of Credit Unions' (WOCCU) World Credit Union Conference brought to the forefront in their remarks. If the past is prologue, then the global credit union movement is poised for a bright future as long as it does not abandon its moral and philosophical core, three financial leaders said during their general session remarks.

Opening speaker Pete Crear, WOCCU's outgoing president and CEO, reflected on his six years of service and on WOCCU's past 40 years, noting the organization's successes as well as future opportunities. Incoming President and CEO Brian Branch, who has served as WOCCU's executive vice president and COO for nine years, personalized the nature of services WOCCU and its members provide, charting a course to help advance the critical mission credit unions around the world pursue. Keynote speaker the Right Honorable Gordon Brown, MP, the United Kingdom's former prime minister and a current parliamentarian, noted not only credit unions' current importance, but the opportunity to expand their growing influence in a rapidly changing world.

"I congratulate World Council on its 40th birthday and applaud credit unions everywhere for adding morality to the discussion of money," said Brown, who also had served as the U.K.'s chancellor of the exchequer, the country's chief financial minister, before coming prime minister. "You have brought a human face to the banking industry and should be incredibly proud of what you have done."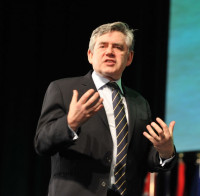 "[Credit unions] have brought a human face to the banking industry," former U.K. Prime Minister Gordon Brown told Monday's general session audience.

In a rapidly changing world, credit unions will increase their influence as more people in developing countries become consumers, driving up the demand for accessible and affordable financial services, Brown said. However, a large segment of the population will be left behind, and they will become acutely aware of their deprivation thanks to the rapid expansion of technology and media. Credit unions' opportunities to serve will increase at all levels, but expanded services will be possible only in countries with legal structures that allow credit unions to operate fully and effectively.

"Look carefully at laws that may restrict credit union operations and do what you can to change them so that credit unions can operate fully and effectively," he said.

Branch stressed the need for the technological empowerment of consumers, especially those in developing countries who lack basic financial institution access. By providing personal options such as financial services delivered through cell phones, credit unions can better serve consumers who otherwise would have no institutional access, expanding the global movement's reach and improving its effectiveness by bringing the credit union to its members.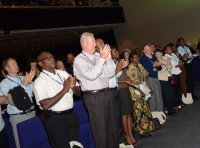 Audience members applaud during Monday's general session at the World Credit Union Conference in Glasgow.

"As credit unions, we have a tremendous marketing advantage that our for-profit competitors do not have in our ability to come together and form cooperative solutions," Branch said. "We can move forward boldly, knowing that our value is defined through our service to our members."

Such capabilities and the increased awareness of credit unions by a growing number of governments, communities and individuals is based on decades of hard work not only by WOCCU, but also by credit union movements in countries around the world, said Crear.

"Early in my career I learned that we are judged by the results of our actions, not by what we intend to do. We don't always succeed, but we always try," Crear said. "When I look at the results [of the global credit union movement] today, I see that you have indeed risen to the challenges, and I am humbled by your commitment."

WOCCU's World Credit Union Conference continues through July 27.
World Council of Credit Unions is the global trade association and development agency for credit unions. World Council promotes the sustainable development of credit unions and other financial cooperatives around the world to empower people through access to high quality and affordable financial services. World Council advocates on behalf of the global credit union system before international organizations and works with national governments to improve legislation and regulation. Its technical assistance programs introduce new tools and technologies to strengthen credit unions' financial performance and increase their outreach.
World Council has implemented 300+ technical assistance programs in 89 countries. Worldwide, 68,882 credit unions in 109 countries serve 235 million people. Learn more about World Council's impact around the world at www.woccu.org.