Consider Consumers in Different Ways, Tufano Says
Make financial education fun, World CU Conference closing speaker advises
July 28, 2011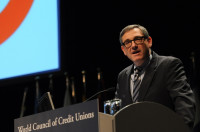 Closing speaker Peter Tufano stressed the importance of making financial education simple, easy to understand and fun in order tohelp develop a savings culture among members.

GLASGOW, Scotland — Financial education is too often boring, which is why so many credit union members fail financial literacy tests, according to Peter Tufano, Pete Moores Dean and a professor of finance with the University of Oxford's Saïd School of Business. Financial education that is simple, easy to understand and, above all, fun is more likely to help credit unions develop a savings culture among their members, according Tufano, the closing speaker at World Council of Credit Unions' (WOCCU) World Credit Union Conference.
"Credit unions should be open to all people, just like it says in the Rochdale Principles," said Tufano, who assumed his Oxford position July 1 after spending 22 years on faculty at the Harvard University Business School. "However, sometimes a credit union's structure makes it hard to do well while trying to do good."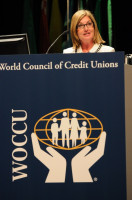 "Credit unions are stronger and the outlook brighter than you may think," shared NCUA Chair Debbie Matz, while reminding credit union attendees their responsibility to be vigilant and act in the face of future challenges. 
Tufano is a specialist in consumer finance, with particular emphasis on applying research insights to better meet the financial services needs of everyday households. Based on the research he presented to the general session audience, consumer financial education and personal economic security is in a very rocky place.
In one study, researchers asked whether consumers could come up with US$2,000 within 30-days' notice to cover a minor emergency. Great Britain ranked the highest with 49% of adults surveyed claiming they could meet that level of need, while just 46% of adults responded positively in the United States. Other countries went precipitously downhill from there.
The answer, of course, is more effective financial education and the cultivation of a stronger savings culture among members to the degree that those members have the capability to support it. Often, age and economic standards play a major role in debt literacy. Creating educational programs that operate more like video games may be part of the solution, said Tufano, who pointed to www.financialentertainment.org as a good example of what he defined as a new and, perhaps, more effective approach.
"You have to understand your member not only by understanding what they know, but what they think they know," Tufano said. "If there is a natural metaphor for money, it is water. Because water can both nurture us and drown us."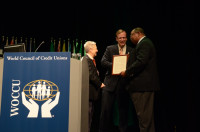 CUNA Chair Harriet May (left) and President and CEO Bill Cheney (center) present outgoing WOCCU President and CEO Pete Crear with a resolution.
Wednesday's closing session also featured a presentation by Debbie Matz, chair of the National Credit Union Administration (NCUA) and the United States' top credit union regulator. Matz stressed the strength of the industry but also encouraged a more global view when it comes to current trends involving capital adequacy, industry consolidation and meeting consumer needs.
"Credit unions are stronger and the outlook brighter than you may think, but we can't afford to become complacent in facing the challenges of the future," said Matz, who is serving her second term as NCUA chair. "I am struck by the level of contact many of you have with your members. You live the credit union credo of 'not for profit, not for charity, but for service.'"
Matz was introduced by CUNA President and CEO Bill Cheney and CUNA Chair Harriet May, president and CEO of GECU of El Paso, Texas, USA. The pair also presented outgoing WOCCU President and CEO Pete Crear with a resolution from the CUNA board of directors honoring Crear's 40+ years of service to the global credit union movement.
World Council of Credit Unions is the global trade association and development agency for credit unions. World Council promotes the sustainable development of credit unions and other financial cooperatives around the world to empower people through access to high quality and affordable financial services. World Council advocates on behalf of the global credit union system before international organizations and works with national governments to improve legislation and regulation. Its technical assistance programs introduce new tools and technologies to strengthen credit unions' financial performance and increase their outreach.
World Council has implemented 300+ technical assistance programs in 89 countries. Worldwide, 68,882 credit unions in 109 countries serve 235 million people. Learn more about World Council's impact around the world at www.woccu.org.